These days, college students and catering clients around the country are demanding sustainable food practices from their dining services.
---
Support the Environment –  Use a Greenie
Promoting sustainability, one to-go meal at a time. Whether you want soup, salad or a hot entree, the greenie containers will accommodate all of the items available on the salad and hot bars—without adding trash to the landfill.
When you're done, return your greenie containers to the recycle bins in the food court or to any food service location to be washed and put back into circulation.
Dining Services Supports Sustainability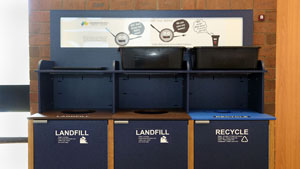 The College is committed to making decisions that preserve the values of the environment, economic and social responsibility. The term "sustainable" in this case refers to agricultural practices that are environmentally friendly (e.g., organic or with minimal pesticides), support local small farmers and promote healthy, diversified diets.
Johnson County Community College Dining Services and its catering division are committed to local sourcing of food products. It incorporates the products in many of its menu items.
In support of these sustainability efforts, JCCC Dining Services:
Initiated a refillable mug program in 2008
Developed the "Greens" concept using locally grown produce and goods from JCCC's student farm
Reduced Styrofoam use by 50 percent since 2007 by replacing it with hard plastic plates and silverware
Installed a re-bottle water station to reduce plastic water bottle usage
Hosts a series of sustainability dinners stressing locally produced food, dairy and meats
Offers reusable clamshell containers and soup cups
Partners with the Office of Sustainability on recycling efforts
Uses produce from the JCCC student farm
Returns pre-consumer waste for composting
Offers and promotes recycling for catered functions and making suggestions for local sourcing of food for menus
Designs special menus upon request, created by executive chef Marc McCann, that feature local foods for catering events.