The Theatre Department produces an annual season of plays, offering a variety of performance and technical opportunities for both students and community members.
Announcing the 2021-22 season! 
---
This Random World

by Steven Dietz
Oct. 7-10 | 8-10 p.m. | East Underground Garage (NE corner of MTC parking lot)

Discover the role serendipity plays in the world around you.
JCCC Theatre presents a hilarious and heartbreaking play about the paths we cross and the lives we affect without ever realizing it. From an ailing woman who plans one final trip to her daughter planning a great escape and her son falling prey to a prank gone wrong, travel on a journey of whimsy and missed connections.
The Kitten's Cry (an original work) by Erik Meixelsperger
Oct. 27-30 | 7:30-8:30 p.m. | East Underground Garage (NE corner of MTC parking lot)
Fitting for the season, JCCC Theatre presents a harrowing saga of one woman's survival. But does surviving mean that you're living? Join along for this dramatic tale of uncovering the past to rectify the future, written by JCCC's own Erik Meixelsperger.
---
Commedia Dell'Aesop

(children's show) adapted by Heidi Van

J

an. 28 | 6 p.m. | Bodker Black Box Theater
Jan. 29–30 | Noon, 2 p.m., 4 p.m. and 6 p.m. | Bodker Black Box Theater
Discover a whimsical tale of adventure and amusement, perfect for children of all ages.
All is not well in the Household Pantalone! A mysterious force has stolen the old man's gold and he must find a way to rebuild his savings. Could his daughter, Isabella, The Girl with the Golden Voice, be the answer?
Meanwhile, Mr. Magnifico, a prosperous theatre proprietor in Fancy Town, is looking for the next big thing to grace his stage. Maybe fortune, The North Wind and a mischievous witch will sort out all their troubles and teach them some lessons along the way!
In addition to live performances, the Theatre Department's children's show will be recorded for later viewing.
---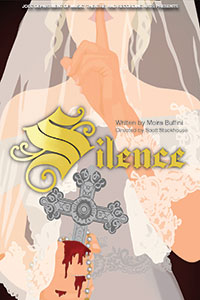 Silence by Moira Buffini
March 4, 5, 11, 12 | 7:30 p.m. | Bodker Black Box Theatre

March 5, 6, 12 | 2 p.m. | Bodker Black Box Theatre
JCCC Theatre takes you back to the Dark Ages of England in this adult fairytale, combining the twists of "Game of Thrones" with the lore of "Monty Python" for an unforgettable adventure. An unlikely band of misfits is thrust out on the open road, fleeing an army driven by a madman. The world as they know it is ripped away and they must figure out the path to survival, possibly freedom and maybe, just maybe, love.

Rating: PG-13 for profanity, sexually suggestive material/action
---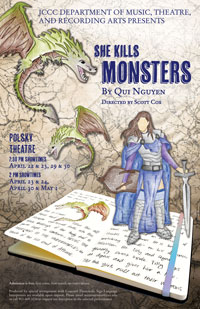 She Kills Monsters by Qui Nguyen
April 22, 23, 29 and 30 | 7:30 p.m. | Polsky Theatre
April 23, 24, 30 and May 1 | 2 p.m. | Polsky Theatre
Brush up on your fantasy lore in this comedic romp involving a demon overlord obsessed with watching television, a mysterious gelatinous cube and hordes of enemies armed to the teeth. When a young woman named Agnes stumbles upon her teenage sister's Dungeons & Dragons notebook, she finds herself catapulted into an action-packed adventure inside the imaginary world her sister created. To discover the sister she never knew, Agnes must delve deeper into her quest, assuming the nasty ogres won't get in her way.