Professional plumbers are in high demand. Launch your plumbing career with skills that prepare you for a future in residential and commercial plumbing with JCCC's plumbing technology program. Complete your certificate in Kansas' first plumbing technology program and work anywhere.
What will I learn about Plumbing Technology at JCCC?
Instructors for our small, hands-on classes are master plumbers with years of experience. Our plumbing technology program begins by introducing students to the fundamentals of the plumbing trade. You will learn how to use and identify tools, materials, piping practices, and more! Throughout the program, you will put your knowledge into practice with interactive labs and real-world experience. After completing a total of 30 credit hours, you will know how to:
Install, maintain, and repair plumbing fixtures
Install, maintain, and repair plumbing systems for both residential and commercial buildings
Install and test backflow prevention devices
Read plumbing blueprints and generate estimates
Determine water volume and distribution requirements
Analyze residential and commercial plumbing needs
Design drain, waste, and vent (DWV) sizing requirements
Learn the local plumbing codes and OSHA regulations
While finishing your plumbing technology certificate, you will have the opportunity to intern at a company and practice what you've learned in the classroom. We can help you find what you want to do, which may open the door for future opportunities.
Why JCCC's Plumbing Technology program?
Keep moving toward your goal with flexible scheduling. JCCC offers two scheduling options for plumbing technology students. You can choose to go to school full-time and complete the certificate in two semesters. Or, if you want to enhance or change your career while you work full-time, you can take classes in the evening and finish in two years.
Our Plumbing Technology Certificate gives you a jump on your career. Our curriculum includes a plumbing internship, so students can gain real-world experience that sets them up for success. After earning a certificate, you can start working as an apprentice and perfect your skills. Gain more experience and work toward master plumber to supervise employees or manage your own business.
At the conclusion of your training, in the Plumbing Code class, take the International Code Council Journeyman Plumber exam. The Plumbing Code class is the capstone course for the program and will show potential future employers what you have learned.
Plumbing technology students graduate from JCCC with more than a plumbing education. They make connections with companies through our advisory board and practice customer service and technical skills working with real customers. Our workplace skills class helps you become proficient at listening, problem-solving, and time and resource management, all critical for career success.
Plumbing is a vital part of every building, whether residential or commercial. Plumbers install and repair pipes that supply water and carry waste away from homes and businesses. They also install fixtures such as bathtubs, sinks, toilets, hot water heaters, dishwashers, and washing machines. Experienced plumbers train apprentices, supervise staff, and may own a plumbing business.
Professional plumbers are in demand across the country. According to the U.S. Bureau of Labor Statistics, employment for plumbers is expected to grow 14 percent between 2018 and 2028, which is faster than average for all occupations (Source: U.S. Bureau of Labor Statistics, 2020).
Demand stems from new construction and maintaining and repairing plumbing systems in existing residences and buildings. The need to fit sprinkler systems into existing buildings is expected to increase as requirements are added to building fire codes. Many job openings will result from large numbers of plumbers retiring over the next decade.
---
Need help with career decisions? Visit the Career Development Center.
The cost of going to college can drastically impact your ability to succeed. At Johnson County Community College, we want our students to be able to afford a program that they love. That's why we're constantly working to make tuition more affordable for you.
Here's what JCCC has to offer:
Textbook and other supply costs vary depending on your courses.
There are several things to consider when budgeting for college. Visit our Cost of Attendance page for detailed information.
Resources and Tools at JCCC
Being a student at JCCC means you have access to a range of services and resources to help you succeed. We offer professional tutoring and small, personalized class sizes. When you attend Johnson County Community College, your education truly matters.
The cost of going to school can be daunting. Fortunately, our Financial Aid office is here to help you through the process. Our counselors can help you find ways to fund your schooling, including scholarships and student loans, both of which can help to reduce the cost of your tuition every semester.
If you need help discovering what your passion will be post-graduation, our Career Development Center and Academic Counseling services are great support tools.
You can also further your education by transferring to a four-year school. JCCC is here to help make the transition to another college program easy and stress-free.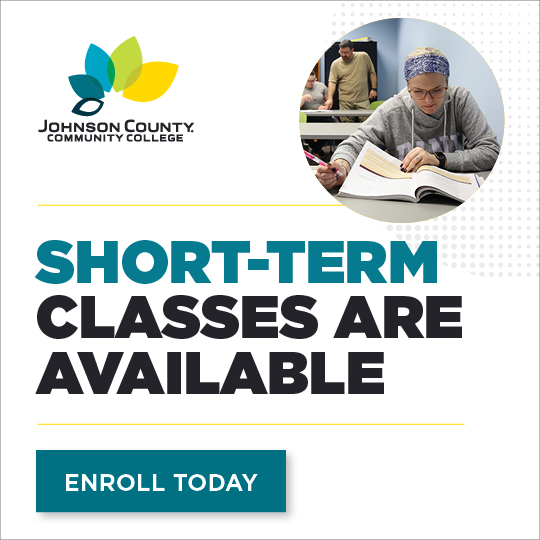 Want More Info About JCCC?
---
---