Paralegal Faculty Bios
Gwenda Hawk
Gwenda Hawk JD/MBA
Associate Professor and Chair, Legal Studies
---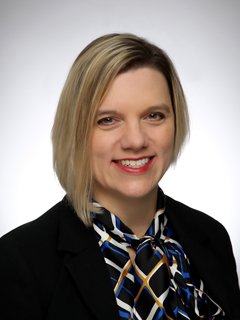 Gwenda Hawk received her Juris Doctor degree from Southern Methodist University's Dedman School of Law and is licensed to practice law in Kansas. She also has earned a Master of Business Administration degree, a Bachelor of Science degree in Economics, and a Bachelor of Science degree in Statistics.
Her formal teaching career began in 2006 at Southeast Missouri State University's Harrison College of Business, as an Adjunct Professor of Business Law. Ms. Hawk has been teaching at JCCC since 2013, and was honored at the 2015 Lieberman Adjunct Faculty Awards Dinner for completing the JCCC Adjunct Certification Training program. She joined the Paralegal program full time in 2015 and assumed the role of chair of Business Law starting in 2017, now serving as chair of both programs in the Legal Studies department
Ms. Hawk is the co-author of "A Survey of State Copyright Laws," which was published in Fall 2014 by the Southern Law Journal.
While in law school, Ms. Hawk served as Senior Articles Editor for the Computer Law Review & Technology Journal and president of the Intellectual Property Organization. She interned with the Missouri State Public Defender's Capital Unit (specifically focused on death penalty appeals cases) and attended the Intellectual Property Summer Institute at the University of New Hampshire School of Law, where she received 40 hours of mediation certification training. During her MBA studies, she attended International Summer School in eastern Germany.
Ms. Hawk worked in contract administration with paralegal responsibilities in the music publishing industry in Nashville, Tennessee. She also worked as a legal intern and paralegal for the Recording Industry Association of America, Inc. in Texas and Washington, D.C. and later as a paralegal specialist for the U.S. Department of Commerce before joining the U.S. Copyright Office. Ms. Hawk earned a Fellowship with the Leadership Development Program at the United States Library of Congress in 2003. Shortly after, she began her own consulting firm focused on intellectual property. Using her legal and business background, Ms. Hawk has worked in the federal government, health care, library science, and the entertainment industry to develop a diverse experience from which she draws in relating class materials to the real world. She has also tutored students in preparation for college and graduate school entrance exams, including the LSAT.

In the local community, Ms. Hawk has served as an Election Judge and was selected to the Missouri Citizens' Commission on Compensation for Elected Officials by the Secretary of State. She leads the children's music program at her church and has served on the board of directors for Spire Chamber Ensemble. Ms. Hawk has also volunteered at the University of Kansas Medical Center, as a speech and debate judge in the Liberty Public School District, and for the Children's Center for the Visually Impaired. She and her family are currently learning American Sign Language together.
Contact Information
Gwenda Hawk
(913) 469-8500 (Ext. 3184)

Office Location
GEB 255B
View Map