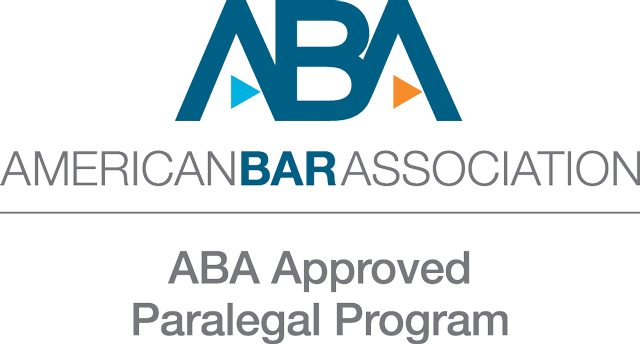 Approved by the American Bar Association (ABA), our Paralegal program includes skilled instructors and 40 years of educational excellence. This program gives students the tools to begin careers in private law firms, corporate legal departments, or government agencies.
What Is the Paralegal's Role in the Legal Profession?
What Will I Learn?
The JCCC program will prepare you for a successful career as a paralegal. You will learn to investigate, draft legal documents, and research legal precedent under the direction and supervision of an attorney.
You can take one of two options in our ABA-approved paralegal program. If you have an associate of arts, associate of science, bachelor's, or graduate degree from a U.S. regionally accredited institution, then our Paralegal Certificate option is the path for you. If you do not yet have a qualifying degree or want to earn an additional degree, then check out our Associate of Arts with Emphasis in Paralegal option.
JCCC's Paralegal program takes a practical approach to law and education. As you learn the fundamentals of the law, you also will put what you have learned into practice. Assignments mimic real-world experiences paralegals might encounter.
You will have the opportunity to build an online portfolio to show future employers. The program also helps you develop research, writing, analysis, and communication skills.
Paralegals may not provide legal service directly to the public, except as permitted by law.
Why JCCC?
JCCC is dedicated to providing our Paralegal students with the highest quality education. Students will find many advantages to pursuing an education in JCCC's Paralegal program.
Flexibility: Class times are compatible with the needs of working professionals. Many classes are offered online or on campus in the late afternoon and early evening. This allows students to plan Paralegal courses around their busy schedules.
Qualified Instructors: All of our full-time instructors have juris doctor degrees, and our adjunct instructors are practicing paralegals or attorneys. You will have the opportunity to talk with legal experts, such as representatives from the U.S. Patent and Trademark Office, as well as watch the legal process at work when the Kansas Court of Appeals hears oral arguments at JCCC. A great way to network is by completing a paralegal internship or joining one of the local paralegal professional organizations.
Advisory Board: The Paralegal program's advisory board is made up of educators, and of paralegals and attorneys from local governmental and private sectors. The board monitors the program and provides insight on emerging trends and opportunities in the field, helping to ensure the program is current, well-designed, and student-focused.
Career Development: All JCCC students have access to our Career Development Center. The center helps students build resumes and prepare for interviews. The Paralegal program also maintains an electronic job posting system so that students and alumni can be notified when interested employers are seeking to hire paralegals or other law-related positions.
New! Beginning Fall 2020, we now offer online hybrid courses for students who want the best of both worlds:
Real-time interaction with faculty and fellow students on a regular basis.
Flexibility to login to class sessions from remote locations and to submit class assignments, projects, and tests online.
Online hybrid courses are taught live online, meaning synchronous (real-time) interaction with your professors and fellow students in an online environment. We are excited about this new opportunity and look forward to serving the needs of our students and the legal community in providing this new option, along with the existing course format options students that students already enjoy.
JCCC Paralegal Program Goals
Our graduates should be able to demonstrate:
Competency in the fundamental principles and procedures relating to the major areas of law in the United States; 

An understanding of the ethical standards of the legal profession; 

Effective general and legal technology skills; 

Effective communication skills used in a legal setting; 

The ability to collaborate effectively in a legal setting; and 

The ability to retrieve, evaluate, and apply legal authority.
Paralegals work in law firms, banks, real estate agencies, life insurance companies, and nonprofit organizations. Employment opportunities are expected to grow by 17 percent in Kansas by 2024, according to the Kansas Labor Information Center. Paralegal positions are expected to increase as law firms seek to provide more cost-effective legal services.
A paralegal degree or certificate is vital for paralegals. Many employers require a degree, certificate, or substantial experience in the field. JCCC's program has been educating paralegals in the Kansas City market for more than 40 years. Our reputation for producing graduates prepared to work in the field on day one will help you achieve your career goals.
The U.S. Department of Labor compiles statistics on paralegal careers. You'll find information specifically related to careers in Kansas, including salary information and job prospects.
Download the Paralegal Program Outlook (PDF) for employment projections and salary information.
---
Need help with career decisions? Visit the Career Development Center.
The cost of going to college can drastically impact your ability to succeed. At Johnson County Community College, we want our students to be able to afford a program that they love. That's why we're constantly working to make tuition more affordable for you.
Here's what JCCC has to offer:
Textbook and other supply costs vary depending on your courses.
There are several things to consider when budgeting for college. Visit our Cost of Attendance page for detailed information.
Resources and Tools at JCCC
Being a student at JCCC means you have access to a range of services and resources to help you succeed. We offer professional tutoring and small, personalized class sizes. When you attend Johnson County Community College, your education truly matters.
The cost of going to school can be daunting. Fortunately, our Financial Aid office is here to help you through the process. Our counselors can help you find ways to fund your schooling, including scholarships and student loans, both of which can help to reduce the cost of your tuition every semester.
If you need help discovering what your passion will be post-graduation, our Career Development Center and Academic Counseling services are great support tools.
You can also further your education by transferring to a four-year school. JCCC is here to help make the transition to another college program easy and stress-free.