Professional Development
The Kennedy Center Partners in Education program offers professional development in arts integration.
---
All workshops are free, but participants must pre-register. Dinner is provided at each event.
---
Sessions for 2022-2023
Puppet Manipulation in the Early Education Classroom with: What If Puppets (formerly Paul Mesner Puppets) - Meghann Henry and Alex Espy for teachers of: Pre-school - 2nd Grade
Wednesday, April 12, 2023 | 4:30-7:30 p.m.
Midwest Trust Center, JCCC
Kids love them, but teaching with puppets can be intimidating! In this interactive training we will work together to tackle these fears by modeling simple teaching strategies with puppets, providing practical tips and tricks for puppet manipulation, and playing together with puppets in a low pressure environment...you will even take your own hand puppet back to your classroom!
Register for Puppet Manipulation Workshop
The Picture and the Pose: Integrating Visual Literacy and Tableau with Melanie Rick and Sean Layne for teachers of grades K-8
Tuesday, April 20, 2023 | 4:30-7:30 p.m.
Academy for Integrated Arts
This workshop provides the opportunity to experience and examine how the visual literacy strategies and the tableau strategies learned with presenters Melanie Rick and Sean Layne can be combined. Integrating these two bodies of work allows students to construct and demonstrate their understandings through visual art and tableau. Join Melanie and Sean to explore how to create lessons that integrate these strategies during the beginning, middle and end of lessons so students are engaged, learning through multiple modalities and critically thinking.
Register for The Picture and the Pose Workshop
Past professional development sessions have included topics such as:
Drawing Symbols for Reading Comprehension
Lead by Jamin Carter for teachers of grades 5-8
Building Reading Comprehension Through Sound & Rhythm
Lead by Imani Gonzalez for teachers of grades K-8
The Power of Pictures: Reading Art in Science, Social Studies & Language Arts
Lead by Melanie Rick for teachers of grades K-8
---

About the program
The Partners in Education Program is a national partnership with the John F. Kennedy Center for the Performing Arts. We lead professional development sessions throughout the year that show teachers how to blend performing arts into their classrooms in a variety of subjects. Our goal is for teachers to integrate arts as an engaging creative process that connects an art form and another subject area to meet evolving objectives in both disciplines.
After our professional development, teachers will be able to:
Expand their abilities to integrate the arts into the curriculum
Provide innovative teaching techniques and tools
Inspire the artist within themselves and their students
The Kennedy Center established its local professional development program in 1976 and has since expanded to national program teams. Teams are selected because of their demonstrated commitment to the improvement of education in and through the arts. The Kansas/Missouri Team is proud to be one of three cross-state partnerships in the United States.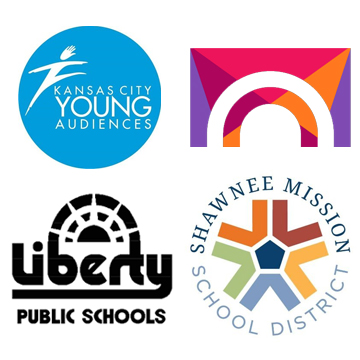 The Kansas/Missouri Team includes
the Midwest Trust Center at Johnson County Community College
the Shawnee Mission School District in Kansas
the Liberty Public School District in Missouri
Kansas City Young Audiences
KS/MO Kennedy Center Partners in Education Report Summary 2019-21