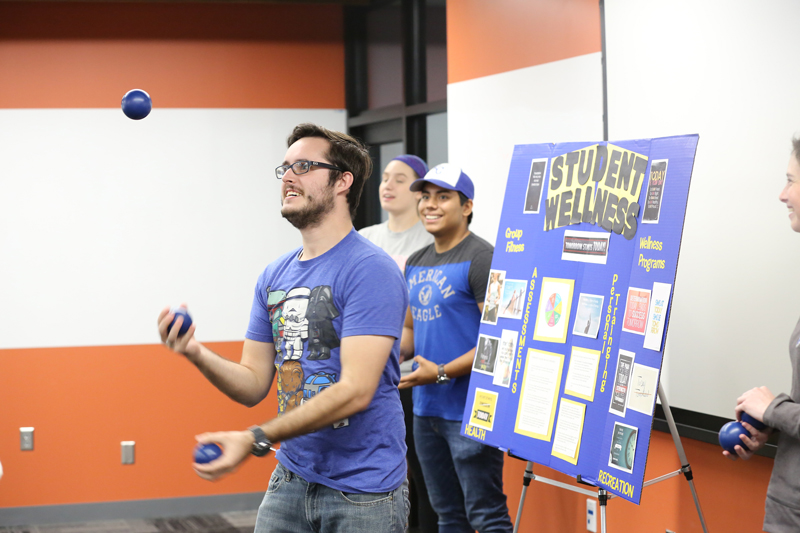 Class Locations
Gym 007 1st floor Gym Group Fitness Room
Gym 003 1st floor Field House
Gym 022 1st floor Gym Weight Room
Class Descriptions
HIIT Power & Strength: HIIT, or high-intensity interval training, is a training technique in which you give all-out, 100 percent effort through quick, intense bursts of exercise, followed by short, sometimes active, recovery periods. This type of training gets and keeps your heart rate up and burns more fat in less time. With HIIT Power and Strength combo, your training intervals, your training will be complete! Class is open for beginners and advanced training.
Hip-Hop Fitness – Hip Hop Fitness offers a one stop, high energy, intense and efficient full body workout. The class uses varying combination of hip hop-based dance moves to burn as many calories and have fun dancing to hip-hop music at the same time!
Zumba Strength – Listen to the Top Hits and a mix of Hip-Hop and Latin flavor while learning choreography that will get your heart rate jumping and your body moving. This class targets giving you a total body workout while dancing to the beat of the music! Come join the party! You'll get a great cardio workout that melts fat, strengthens total body, and improves flexibility.
Pilates: The practice of Pilates creates and maintains an efficient, lean, strong, stable and agile body. The Pilates method of exercise emphasizes restoring the body to true balance, and ease and economy of movement, by using the following principles: mind/body connection, total body toning, balance, joint health, improved posture and flexibility. Barre adds a level of toning, sculpting, posture and elongating your musculature and overall body!
Relax & Restore Yoga: Yoga class for all body types and all levels of ability; no prior yoga experience required.  Yoga flow to begin then approximately 30 minutes of gentle, challenging yin yoga poses to build endurance, strength and flexibility followed by 5 to 10-minute guided relaxation/meditation. Bring your yoga mat.
Open Weight Room: Build strength and endurance and power with free weights with Certified Personal Trainers. Squat racks, barbells, plates, dumbbells and other free weight equipment available. Come in and work with a trainer or on your own. Fitness assessment and program review or design are available. Weight training that creates serious results and strong bodies. It's absolute, positive power!
Abs & Core: This comprehensive core class will target every aspect of your core, along with involving other muscle groups throughout the class!
Cav Fit: Get strong! Work with a personal trainer from basic to advance power and weight training lifts.  Functional fitness, safe, proper technique with barbells, dumbbells, kettle bells, medicine balls and body weight.  Strength, power, endurance and stability build a strong foundation to prevent injury. Push yourself to ultimate fitness!
College Recess: This class is full of fun and games. Each week a different activity will be offered. The games will include volleyball, soccer and ultimate frisbee. Get a team together, bring a friend or come on your own! The class will include an optional warm-up and cool-down with focused strengthening and stretching needs for the sport played that day.

Student Wellness Club Workout: This club workout is for anyone who wants to be part of Student Wellness Club. We are a group with a desire to live out a healthy, happy lifestyle – no matter if you want to get started or are already living it out – everyone is welcome! Together, we get stronger and STAY stronger! Also, the club works together to share the message of health at community and campus events and programs for student wellness, and develops leadership skills to serve in the health/wellness/fitness professions.