A life of compassionate care and community service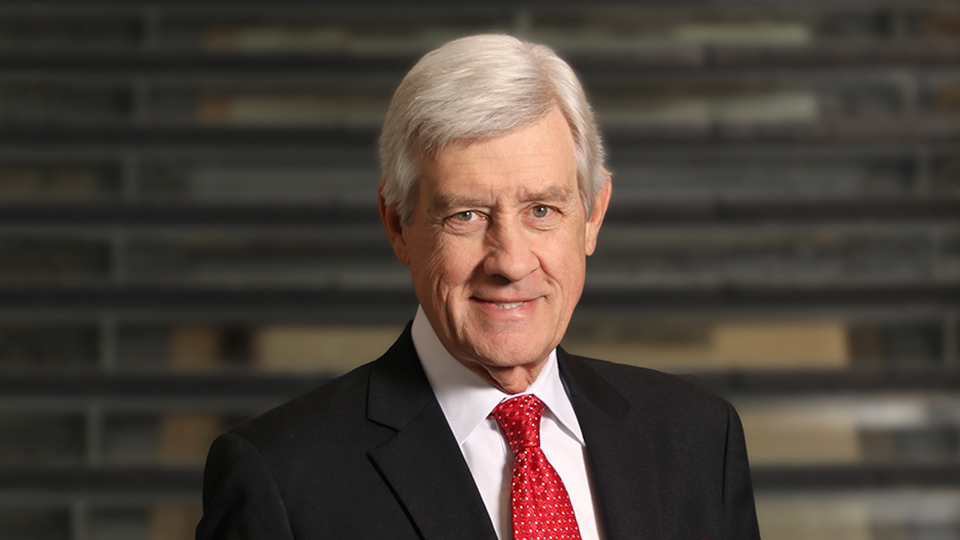 With a strong handshake, a twinkle in his eye and an infectious smile, soft spoken Steve Wilkinson leaves a lasting impression on everyone he meets. He has the compassionate demeanor of the doctor you want delivering a medical diagnosis. He unselfishly provides priceless insights and mentoring moments to aspiring business leaders. His heart and soul rival that of any cheerleader.
Steve is compassionate. Steve is intelligent. Steve is loyal. For all those things and more, the JCCC Foundation honors Steve as the 2022 Johnson Countian of the Year.
"On both a professional and personal level, Steve Wilkinson's drive to serve others in ways that positively impact their lives is inspirational," said Andy Bowne, JCCC president. "With his demonstrated commitment, leadership and dedication to our community, we look forward to honoring him at the 36th annual Some Enchanted Evening scholarship gala in November."
Knowing more about Steve's past explains the person he is today. His distinguished healthcare career that spanned more than three decades and his exemplary community service are rooted in compassion. His background is impressive.
Putting the care of others first
It was a board position at St. Catherine's Hospital in Garden City, Kansas, that ignited Steve's passion for healthcare in 1983. Fellow community leaders encouraged him to consider the hospital's open position for executive vice president. Soon after, he became president and chief executive. That career change launched Wilkinson's stellar career in healthcare administration.
"[At St. Catherine's Hospital,] I saw we made a difference for our hospital patients," said Steve, who received his master's degree in Health Care Administration from the University of Colorado. "We provided a difference in how patients recovered from their illnesses and difficult health diagnosis. Over time, I realized this would be my career."
Steve was in Garden City until 1996, when he moved to Kansas City to be regional executive of the American Hospital Association, responsible for AHA policy and legislative affairs representation in Missouri, Kansas and Nebraska.
He is most widely known for his more than 18-year tenure as chief executive officer of Menorah Medical Center. He joined shortly after the hospital moved to a new facility in Overland Park, and he went on to lead later expansions at the full-service, acute-care hospital.
Steve retired in 2015 but was persuaded a few years later to serve a short stint as Kansas City area president and CEO of Prime Healthcare in 2018. He was responsible for overall operations of Prime Healthcare's four area hospitals as well as mentoring leadership at each of the facilities.
Transforming lives at every turn
Outside of healthcare, Steve further enriches his life by naturally gravitating to activities that help change lives. He loves being part of a world that does great things for others. He loves making a difference in people's lives. He often is a guiding light for others.
Steve began his business career in another industry. It, too, involved compassionate care, but in these early roles he was caring for communities. After graduating from Kansas State University with a degree in business administration, Steve worked for several Chambers of Commerce (Clay Center and Garden City) in rural Kansas.
He never forgot the community-building experiences gained along the way. In fact, it prompted him to always take an active role in any community where he lived.
Steve is a current board member of Bank of Blue Valley, Johnson County Business Leadership Council and JCCC Foundation (president 2011-2013). He is a past board member of the Blue Valley Educational Foundation (president in 2010); Community Blood Center of Greater Kansas City; Overland Park Chamber of Commerce (chairman in 2005); Greater Kansas City Area Susan G. Komen Foundation (initial chairman in 1999); and Kansas City Hospice, Visiting Nurse Association and VNA Plus Home Medical Equipment. He also is a past member of the University of Kansas' Edwards Campus Board of Advisors.
Steve and his wife, Wanda, are actively involved in fundraising efforts in the community and have been for years. The couple, who have been married more than 50 years, have chaired fundraising committees for the Overland Park Arts & Recreation Foundation's Stems event, Kansas State University's Wabash Cannon Ball, Kansas City Hospice, and JCCC Foundation's Some Enchanted Evening gala. They also have been members of the Catholic Charities Snow Ball committee.
Values that Steve's parents instilled in him at a young age served as his North Star when it comes to community service.
"I inherited my passion for community involvement from my parents – Paul and Vi Wilkinson," Steve said. "During my years of grade school, high school and college, my dad and mom were community leaders in Washington, Kansas, where I grew up. I admired them for their community involvement. They were definitely leaders in our community."
Steve's parents, who have since passed, would be proud of him continuing their legacy of community service. They also would be proud of Steve's own legacy of compassionate care in our community.
Continuing the tradition of honoring community leaders
Steve joins a long list of distinguished past honorees. They all share a common enthusiasm for our community.