February 14, 2020
Alumna completes 'full circle' by working at the College's childcare center she once attended
Jennie Brockhoff was already "college-bound" as a toddler. Now, 30 years later, she's teaching at the Hiersteiner Child Development Center (HCDC), the very place she learned her ABCs. After completing JCCC's Early Childhood Education program and then earning a bachelor's degree in Child Development Education, Brockhoff now teaches alongside some of her own childhood educators.
Life Comes Full Circle
Some of Brockhoff's fondest childhood memories come from visiting JCCC with her mom, Dina Wilson, who was a nursing instructor in the late 1980s. "I came with her to campus all the time. I got to visit the nursing lab and spend time with her during campus events, like the JCCC picnic," Brockhoff recalls.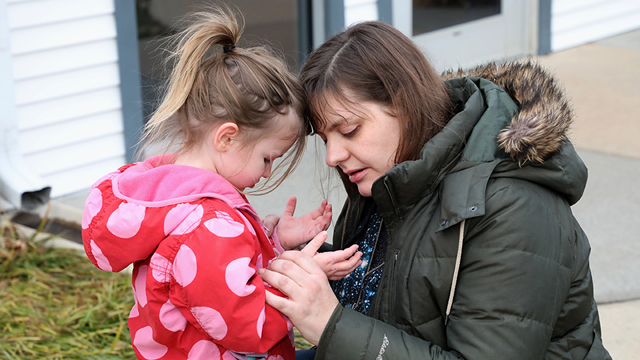 After graduating high school, and while trying to figure out her next chapter in life, Brockhoff became a substitute childcare aid at the HCDC, which she once attended as a toddler. What began as a part-time gig quickly transitioned into a passion as she fell in love with "experiencing life through the eyes of a child."
Brockhoff took the next steps in her JCCC journey and enrolled in the Early Childhood Education program. "Starting the Early Childhood Education program felt like a new lease on life. I loved the classes and made lifelong bonds with the students who journeyed through the program with me. I finally felt like I had a purpose and direction to my life," she remembers.
A few years later, Brockhoff became Assistant Director at a local child development center. After a few months, she quickly realized she was not fulfilling her dream of hands-on teaching while in an administrative position. This realization led her back to the HCDC, eager to start shaping young minds. She is currently a Lead Teacher working with children from 2 1/2 to 4 years old – perhaps the next generation of Cavaliers!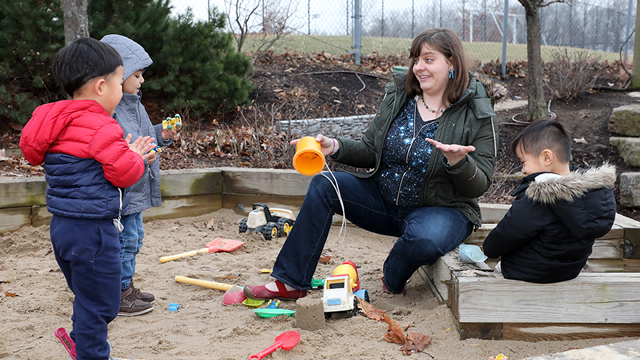 Now in graduate school, she attributes most of her success to "the firm foundation" established during her time at JCCC. "The Early Childhood Education program at JCCC taught me to see the wonder in everyday experiences and how to show the world to young children. Being on campus always felt like home. It's such a beautiful place to spend time. I honestly wish I could've gone to school here forever," she says.
Setting the Example
Brockhoff has two young boys of her own, one of whom, Bram, is following in his mom's footsteps by attending the HCDC. "It's so amazing to see him with teachers I graduated with and worked with for so long. He is so very happy here, he cried when he couldn't go to his 'new school' on Sunday."
Who knows? Maybe her sons will one day carry on the JCCC family legacy.
Your Tomorrow Starts Here
Curious about careers in teaching? Explore our
Early Childhood Education program
. Not only will you become an educator, but also a leader, protector, playmate and role model. Talk with one of our
specialized counselors today
!