July 1, 2020
Friendly and dedicated JCCC employees put grad on fast track to a better life
Michelline Smith (seventh from the right) enjoys a day of working outdoors in NARS' simulated rail yard.
She started saving 12 years ago, in 2006.
That's when Michelline Smith realized it was time to re-examine her life. She wanted to find a career she liked but, more important, she wanted to make tracks to move her family out of the South Side of Chicago.
The area she and her family have called home for generations is tough – blighted with one of the highest murder rates in the country.
A paramedic for more than 10 years, Smith found herself growing mentally numb to shootings. She worked 12-hour shifts to support and educate her four daughters while literally attempting to save her neighbors from themselves. It left her with embedded emotional shrapnel that may never heal.
Then came NARS
Smith had long dreamed of working for a railroad company. It seemed transportation was in her blood. Her mother worked for the Chicago Transit Authority. Smith researched many railroad training programs, but she kept coming back to JCCC's National Academy of Railroad Sciences (NARS).
"None compared to the training I would receive," she said. "I knew I'd have to sacrifice, but it was so worth it. What I wanted was a railroad career, not just a job. It took me so long to reach the financial goal, and I wasn't about to give up."
Smith took a leap of faith. She quit her job, left her 11-year-old daughter with her mother, bought railroad-approved footwear, booked a flight to Kansas City and reserved an Airbnb in Overland Park.
Fast-forward five weeks
Persistence paid off ­­– big time. Two days before Smith finished her six-week NARS conductor training course, Canadian Pacific came calling. Smith received an $80,000 job offer (closer to six figures after adding overtime and benefits). Six days after graduation, she was in Minnesota training for her new job as a freight train conductor.
On the job, Smith is one of just two people operating a train that can be 100 cars or longer. An engineer handles the driving while she covers everything from braking and track switching to ensuring the cars are in good working order. The days are long – 12-hour shifts, six days a week – but that's nothing new to Smith.
"I'm confident because the NARS instructors took us through the exercises step by step and made sure every student 'got it,'" she said. "They made learning really fun, too. Teaching the course isn't just a paycheck to them; they really care about their students."
Faithful friends she met at JCCC
Smith acknowledges that she worked hard to graduate from NARS, but she's extremely grateful for the friendly staff at JCCC.
Anne Rubeck, Digital Strategist, answered a call when she heard a NARS student needed transportation to and from campus. Turns out Smith's Airbnb was just a few blocks from Rubeck's home. They became fast friends and Rubeck even took Smith to visit her family's farm in Garnett.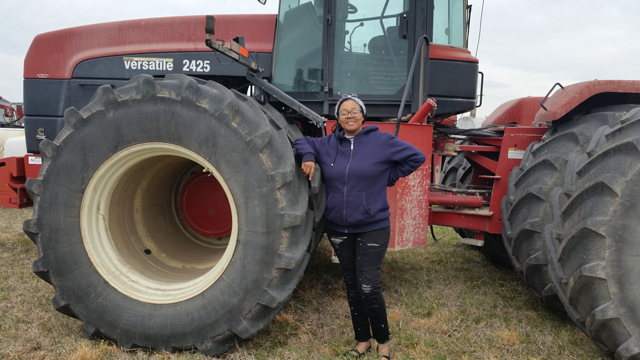 "I'd never been to a farm. That's a whole different world than I'm used to," Smith said. "When I got on the combine tractor, I was up so high I could see trains coming through the fields. I knew I was in the right place and it was very cool."
Rubeck felt honored to help. "My experience with Michelline made me feel I was living the College's mission to 'inspire learning to transform lives and strengthen communities.' In return, I was greatly inspired by Michelline's determination and positive attitude." 
Tim Brown, NARS Assistant Professor, also made a lasting impression on Smith. He explained the good, the dangers and the challenging aspects of the industry – what Smith calls "honest talk."
"He stayed late and came in early and did everything in his power to make sure we all knew the material," Smith said.
Brown commented that Smith was one of the most focused and best students he'd had in class to date. The industry is male-dominated and few females enroll in NARS training, even though companies are encouraging women to find railroad careers.
NARS Director Terry Harrison and NARS Training Coordinator Gretchen Henderson also made an impact on Smith. Harrison helped Smith fill out her job application for Canadian Pacific.
"Her first day in training, she had on beautiful eyelashes and nails. By the end of the first week they were gone," Harrison said. "I knew then she was serious. She was always a joy."
Smith also ran into then-President Joe Sopcich in the Commons.
"He was so nice and down-to-earth," she said. "I'd never met anyone of that stature who was so approachable. I told him I was impressed and thankful for everyone's friendliness on campus."
"JCCC truly has a family feel," she added. "I'll never forget my time on that clean, safe campus among beautiful people."
What's down the line for you?
If you are ready to get rolling with a railroad career, call the NARS staff at 913-469-8500, ext. 2222.