May 8, 2017
Female truckers steer into nontraditional career
Alison Smith
Meet two females who have made driving a big rig "women's work." Alison Smith and Amanda Lord have completed JCCC's CDL training and have found their new careers rewarding and the experience and pay excellent.
Stepping up into the seat of a semi-tractor trailer can be a bit intimidating. According to Lord and Smith, the training they received at JCCC completely prepared them to master all aspects of the rig with confidence. The driving force behind their new careers has been to create work-life balance and to make a profitable living.
Alison Smith
Because the class times for the 10-week program were in the evenings and on weekends, Smith was able to keep her full-time job as an accounts payable clerk while obtaining her CDL-A license.
"The classroom atmosphere is great, the guest lecturers who were brought in were invaluable and the one-on-one attention during the skills and driving sessions was amazing," Smith said. "Having a guaranteed time each weekend day to work on the range is something other programs do not have."
Smith had many questions about her new career choice, and JCCC instructors answered every one.
"When I needed additional guidance outside of my normal scheduled time, the instructors were more than happy to assist me," she said. "Everyone was willing to answer all the questions I had about the trucking industry and what I should expect."
Shortly before Smith completed the program, she inquired about a position at Tyson Foods. That paid off. Tyson Foods waited for Smith to complete the state CDL exam, then scheduled her orientation. "I am so excited to start seeing the country … seeing this beautiful land is going to be amazing," she said.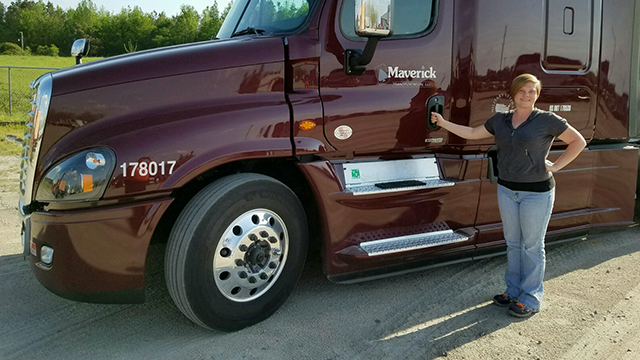 Amanda Lord
Lord, who drives a truck with a 53-foot trailer for Maverick Transportation LLC in Spring Hill, needed a local job that would allow her to be home at nights with her two young boys. Prior to passing her CDL-A skills test with ease, she was a shift manager at McDonald's.
"I like to drive and wanted a better career for my future and the future of my children," she said. "I couldn't ask for more … this was a huge stepping stone for my family."
Lord said she chose JCCC because it's an accredited school with high standards and extensive one-on-one training behind the wheel.
"The directors of the transportation program were very helpful as I didn't have funds to pay for this program," she said. "They did everything they could to help make CDL school happen for me."
Why are more women hitting the road?
Women truck drivers now make up about 5 percent of the industry's employees, which is far more than in the past 20 years. Some people credit newer designs that make trucks easier to maneuver. As companies upgrade fleets, many new truck models have easier-to-drive automatic transmissions and cabs with ergonomic features that better accommodate body types of all sizes. Other reasons include:
Demand for well-trained professional drivers is at an all-time high
Pay is competitive
Flexible schedules and work hours mesh with family schedules
More companies are open to hiring women
"Driving a big rig isn't a 'man's job.' It's a job, period," said Josh Smith, transportation program director in JCCC's Continuing Education Division. "It doesn't matter if it's team driving, flatbed trucking or tanker work. If a female can do what's required in the job description, she should be eligible for the work."
Stats add up in favor of women drivers
Many of the national carriers start new drivers out with annual salaries of between $50,000-$60,000 their first year. When women work in a male-dominated profession, they typically make more money than in a female-dominated profession, according to Ellen Voie, president and chief executive of the Women in Trucking Association. Truck drivers who are women make the same pay as their male peers because they get paid by the mile or the load.
As more women get behind the wheel, many of the trucking companies prefer female drivers over their male counterparts for several reasons:
Lower accident rates
Accidents tend to be smaller and less costly
Attention to detail is better, which can make them safer
Now, get truckin'
Sign up for a free orientation session (for men and women). Register for upcoming 10-week CDL training programs in Kansas City and get ready to drive yourself into a new career.