September 12, 2017
Professor makes art history enthralling.
Allison Smith sees her job at Johnson County Community College as opening up a world of art to those willing to follow her.
As professor and chair of the Art History department at JCCC, Smith teaches art history courses and leads yearly trips to European cities. There, students can explore the local art scene while immersing themselves in the culture.
Taking students to Europe
Smith painstakingly puts herself, sometimes literally, in the shoes of her students. As an empathetic tour guide, Smith calculates all walking distances so she can tell students what shoes to wear and how rigorous the day will be.
Students have responded positively to such detail. After a trip to Barcelona, one student wrote to say she appreciated Smith's hard work.
"I met some new local friends who share my interests, and together we shared a great adventure. I was inspired to continue learning about Spain's history and culture … Having not been abroad for 11 years, this reinforced my belief that travel is the best education and always an adventure," the student wrote.
Smith remembers the effect Barcelona had on her own children. Her child, then 8 years old, begged to visit more Gaudi houses, designed by rule-bending architect Antoni Gaudi.
"Even when (a tour) entails two hours' wait in the sun, walking blocks in the summer heat and more hours touring the house," Smith said.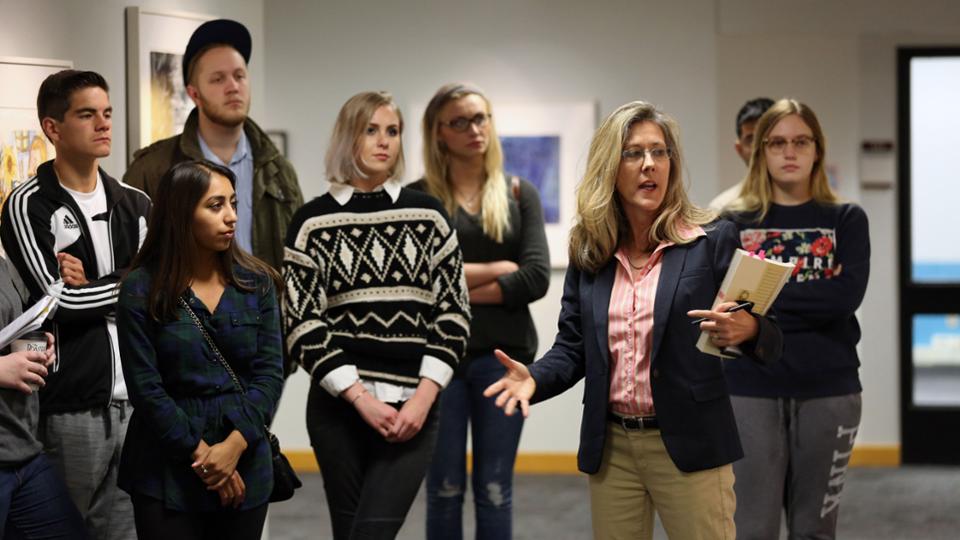 Introducing art history
Back in the States, Smith teaches four classes a semester, adding up to around 115 students most semesters. 
Smith says the vast majority of her students enroll in her courses because they meet the humanities or diversity requirement.
"What's really fabulous is that I see them the next semester because they really enjoyed the class. That's great feedback. They tell me, 'I told all my friends to take this class.'"
And yes … you can 'use' it
Smith always has a handful of students who come into her office and ask, "Can you tell me what I can tell my parents what I could actually do as a career if I continue in art history? I want to study art history."
For instance, one of her former students, Sarah Sylvester Williams, just completed her Ph.D. in art history, specializing in European art. Williams asked to shadow her former professor as part of the requirement of completing her doctorate at the University of Missouri. Now, other Mizzou doctoral candidates also contact Smith, requesting to shadow her.
Smith said she enjoys teaching art history at JCCC because of the Nerman Museum of Contemporary Art on campus and the major art collections displayed in four other focus areas on campus, including:
works on paper in the Carlsen Center
major works of art lining the hallways
art in the dining and administrative areas
Art history classes
For more information on art history at JCCC, contact
Smith
at 913-469-8500, ext. 3498. For classes in art history, access the
credit class search
and use the terms of "art history" or "ARTH."