Driver Education
Are you ready to hit the road as a confident, safe driver?
---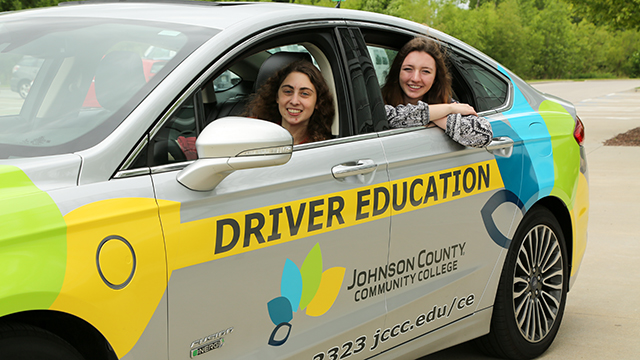 JCCC's program consists of an eight-hour face-to-face classroom course, plus four to six behind-the-wheel driving lessons.
The classroom portion begins with a 30-minute required parent meeting to complete course-required documents.

After the parent's meeting, students will go through the Kansas Drivers Handbook in preparation to take the Kansas Driver's Handbook test. Students must pass the Kansas Driver's Handbook test to be allowed to complete the classroom course.

Throughout the day, students will be presented with course content, discussions, activities and videos that teach the basic principles of car control, the mechanics of turns and parking, the driver's physical and psychological factors in driving and Kansas driving laws.

The course will conclude with a comprehensive final exam, which a student must pass to successfully complete the classroom portion of the course.
Students will schedule their four to six behind-the-wheel lessons with their instructor. Lessons typically begin within one to two days following the course. Normally the behind-the-wheel lessons are completed within four to six weeks.
Students will need to successfully complete all drive lessons, demonstrate the necessary drive competencies and pass all classroom portions of the course to complete the course in its entirety.
Driving lessons are competency-based and include:
Residential Driving: Left/right turns, controlled/uncontrolled intersections, U-turns, backing
City Driving: Turning from left lane/right lane, lane changes, following distance, traffic lights, roundabouts, etc.
Highway/Expressway: Entering/exiting a highway, driving on the highway
Parking/Turnabouts: Angle parking, perpendicular parking, two- and three-point turns
View Course Schedules & Register
The JCCC Advantage
Students will have the same state-certified instructor for all classroom and behind-the-wheel training.
New sessions start every few weeks. No drive-time wait lists! Most students complete the classroom and behind-the-wheel training in under six weeks.
JCCC is the only institution in the state of Kansas that trains and certifies driver education instructors. Have your children learn from the experts.
JCCC offers driver training beyond just driver education. Check out our defensive driving classes.
What you need to know
Students must be at least 14 years old. It is recommended that a student have an instructional permit prior to class, but it is NOT necessary.
We recommend that students experience behind-the-wheel driving with a parent/adult prior to the first driving lesson. Students should be able to start and stop a vehicle and make left- and right-hand turns in a residential setting.
For more information, see our frequently asked questions.
Why should my student take a driver education course?
The primary benefits of participating in a driver education program include:
Instruction over the law manual, emergency situations, vehicle maintenance, vehicle controls, planning a trip, operating a vehicle on the roadways, parking, how to obtain a license or permit and the responsibilities of owning a vehicle.
4 to 6 lessons behind-the-wheel with a certified instructor based on student's ability to pass the competencies for each lesson. 
Some insurance companies give a discount to students/families that have completed a driver education program.
In order to apply for and receive a Restricted Permit at age 15, the student must have successfully completed and passed a driver education program (classroom and drive time).