Bringing your vision to life.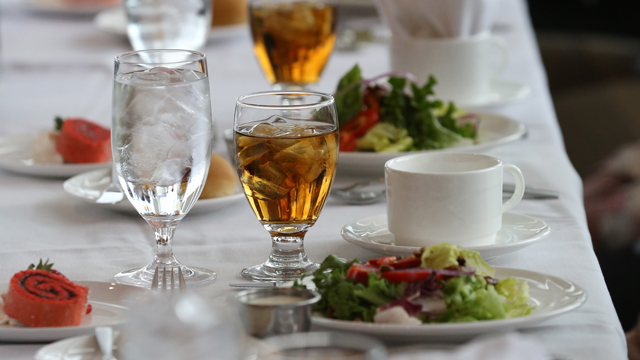 JCCC's award-winning team specializes in creative and customized presentations. Work alongside us to create an elegant banquet, professional business luncheon or a relaxing coffee break. We're happy to serve your needs through individualized service and professional assistance for all your meal arrangements.
For any questions, contact JCCC Catering at 913-469-8500, ext. 4942 or ext. 3770
What we offer
Experienced staff are ready to liven your event with delicious, mouth-watering meals. Freshly prepared herb-crusted Salmon, pasta fagioli, mango passion cheesecake and other gourmet options provided an elevated touch your function.
Browse the Catering Brochure for our full menu and try not to get too hungry!
Our team can deliver and set up, or you can pick up your order.
We prepare:
Breakfast, lunch or dessert buffets
Plated breakfast and entrees
Meals a-la-cart
Cheese, fruit, and vegetable trays
Hot or cold appetizers
Bar service, featuring house beer and wine selections along with soft drinks and water, can be provided for your event. Bars may be hosted, cash, ticketed or a combination thereof. Each bar requires minimum sales of $130 per hour of service (any shortfall from the minimum will be included on the event invoice).
Please refer to the Service of Alcoholic Beverages Operating Procedure for other alcohol service stipulations.
---
Catering Policies and Practices
If a new event order is placed, or if an existing order is changed within 5 business days of the event (holidays & weekends are excluded from business days), a fee of $30 or 8% of the total sale, whichever is greater. New orders and changes to existing orders are subject to product availability. Not all items are available on short notice.
The guaranteed guest count is due seven business days prior to the event.
Minimum Service Requirements
Buffet service menus require a minimum guarantee of 20 people.
Selections from the wraps, sandwiches, and salads as well as dessert offerings are subject to a minimum amount for each item. This is based off of the number of attendees and the number of items requested.
Events that begin outside of the normal operating hours for JCCC Catering (7 a.m. to 7 p.m.) will require a sales minimum of $200. Events that do not achieve $200 in sales will be billed for the difference.
Events requiring delivery outside of normal operating hours for JCCC Catering (7 a.m. to 7 p.m.) will incur a fee of $35.
All leftover food and beverages are the property of JCCC Dining Services and will be disposed of in accordance with Health Department regulations. Items that are excluded from this practice are prepackaged/sealed non-perishable food/beverage items, i.e. candy bars, bags of chips, granola bars, canned soda, etc.
Cancellation Policy:
Cancellations can be made up to one week before your event. A charge of 50% of the total invoice will be charged if the event is cancelled within one week. A charge of 75% of the total invoice will be charged if the event is cancelled within 48 hours. Should inclement weather or other unforeseen circumstances occur that cause the campus to close no cancellation charges will be assessed.
Using an Outside Caterer
JCCC lessees who receive permission to use an outside caterer for an event on campus will provide to JCCC Events at least 30 days prior to the event, the following information:
Proof of caterer's Food Service License that permits them to do business in Overland Park, KS.
A certificate of insurance evidencing the caterer's insurance coverage to include at a minimum:

General Liability coverage of $1,000,000 per incident/ $2,000,000.00 annual aggregate.
General liability coverage to include product and completed operations coverage.
Medical expense (any one person) $5,000
Workers Compensation– KS statutory limits to cover the caterer's employees catering the event.
Certificate of insurance will note that both the lessee and JCCC are additional insured.
Additional insurance /coverage as requested.
Additional fees may be charged by JCCC's catering department for the use of the outside caterer.
Please note that this list is not an all-inclusive. Additional information/licensing/etc., may be requested by JCCC.
All required information must be submitted as one complete packet. We will not accept incomplete/piecemeal information.
Please submit information to ahunt13@jccc.edu at least 30 days prior to event date.