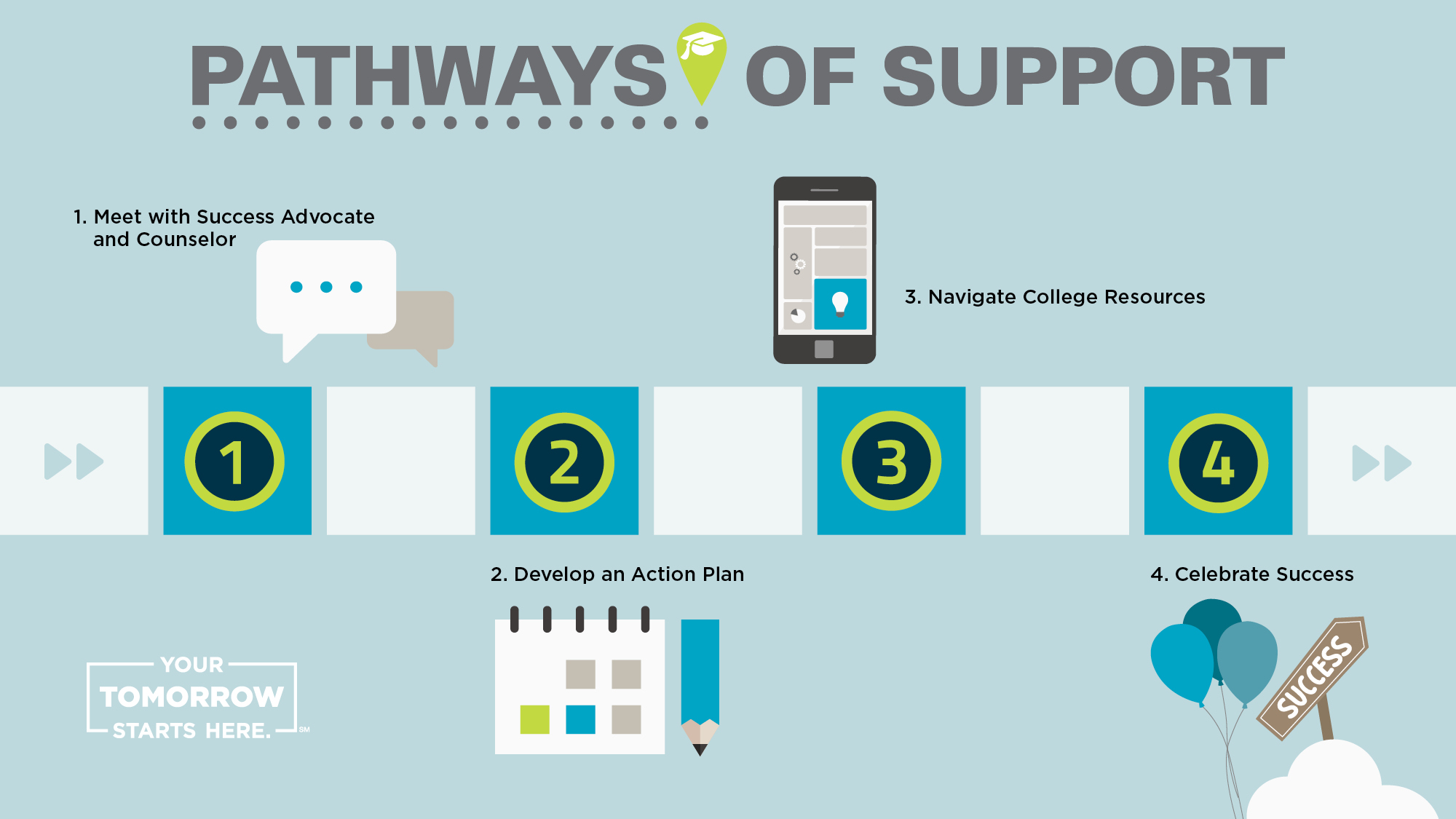 What Is the Pathways Program?
It can be challenging to navigate the complexities of college. The Pathways Program provides you with the tools, resources and people necessary for success at JCCC and beyond. And with the assistance of a Success Advocate, you can get you started on your success path.
Benefits of the Pathways Program:
Keeps you focused on your goals
Provides a mentor and accountability partner to keep you on track
Partners you with a Success Advocate and an Academic Counselor who collaborate to offer you timely information
Who Are Success Advocates, and What Do They Do?
Success Advocates are your central point of contact at JCCC. They know a little about a lot, so if they can't help you directly, they'll connect you to those who can.
You will work one-on-one with your Success Advocate, who will identify which campus resources are a good fit and serve as your on-campus personal assistant and mentor. You will also work with your Advocate on your Success Plan.
What's the Difference Between a Success Advocate and a Counselor?
Success Advocates act as your guides to the JCCC campus. Any questions you might have about admission, orientation, transcripts, student email, College policies, meeting with a Counselor, completing registration, acquiring required books or paying for classes can be discussed with your Success Advocate.

Counselors provide academic, personal and career counseling. You will work with a Counselor to develop your course schedule based on your individual needs, responsibilities and goals. Counselors can also provide assistance in crisis situations and short-term personal counseling.
What's a Success Plan?
Your Success Plan is a personalized list of items for you to accomplish while at JCCC. It's tailored to your academic goals and designed to help you transition into college and get you connected with resources necessary for your academic, personal and professional success.
Meet the Success Advocates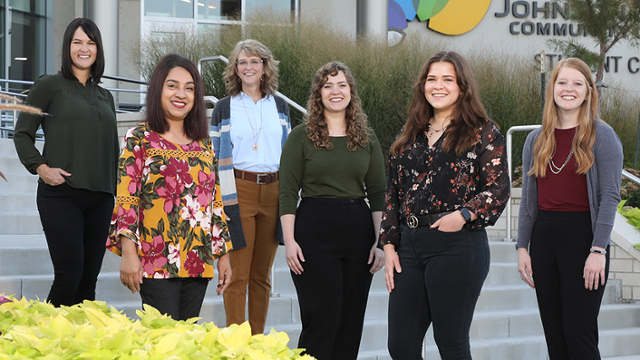 JCCC Success Advocates (L to R): Danielle Gallegos, Nur Hafza, Patty Karr, Caylin Smith, Rebekah Godke, and Taylor Gnagi. Get to know each one
---
What Students Say About Pathways
"I didn't know half the resources that are available. [My Success Advocate] got me in touch with a Spanish tutor, she told me to check in with my counselor, and she told me about the Center for Sustainability because I'm interested in environmental activism." Graham, Pathways participant

 

"I want to express my gratitude for the guidance. Thank you for checking in on me to see how I was doing throughout the year. It was nice knowing that I could always make an appointment for some help whenever I needed it. Everyone was friendly and welcoming." Isaiah, Pathways participant

 

"Juggling school, work and family isn't easy, but with the help of the Success Advocates organization and bright attitude, it made it a lot better. I am better prepared for classes next semester and have been communicating better with my professors. You made it a great second semester. Serious appreciation from me to you!!" Bryna, Pathways participant


---
Still have questions about the Pathways Program? Give us a call at 913-469-3803, or send us an email.