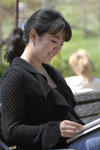 Staying with an American family for a year while I am in the U.S., has been a very great experience for me. It not only makes me feel at home having a family, but also it's a chance to get to know how Americans really live and what their lifestyle looks like. I am really amazed by their very friendly, honest and informal communication to each other. My host family accepted me as a real member of their family and I quickly felt that. I fell in love with all of them! In other words, what I can tell you is I live with 'crazy' American family and I love that craziness!!! — Anora, Uzbekistan

To me, my "American family" is my family. They took me into their house and it has become my home away from home. I hope that other international students will grab this opportunity to have an awesome experience like I have. — Steffen, South Africa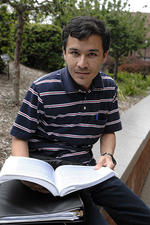 My host family is nice to me. My host mom is like my own mom because she cooks, cleans, takes me shopping and offers weekend outings including Hollywood movies at theaters for free of charge.
I was impressed with the fact that once she came from work which is several miles away to cook for us [host siblings and me] a lunch while herself eating on the way while driving. That happened during winter break. She has a lunch hour but spent that time driving home and cooking quickly for us.
Upon going back to my country, I believe I will miss her pasta that she cooks. My host sister often reminds me of my "promises" to join them for weekend outings and challenges me to keep my word.
I no longer treat my host brother the way I started when I came to the U.S. I now can joke, laugh, work and argue with him but most importantly we can have fun together. I miss him, his sister and his mom when they come in later than usual. I don't see my host family as a "host" family anymore. I see them as my American family. — Bahtiyar, Turkmenistan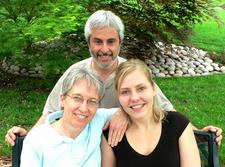 I expected that my Homestay would be a great experience for me and the family with whom I have to stay. I was very curious to meet my host family and to see how it is to live with a real American family. I wanted to get to know the American culture and in my opinion the best way to do that is to live with one for a certain time.
The JCCC Homestay program found me a very good couple to live with. I had fun doing things with them. We laugh a lot together. I am back in Germany presently and my host parents are coming to visit me this fall. It is nice because we email and make phone calls together to stay in communication.
I learned in my Homestay that it is really important to talk about every little problem with your host family otherwise it could become a big problem. At the beginning it might not be as easy as it sounds because of the language skills but it will improve surely.
I got to know the American culture and made a lot of experiences in my exchange year. Staying with my host family was positive experience which made me stronger and even more self-confident.-Nicole, Germany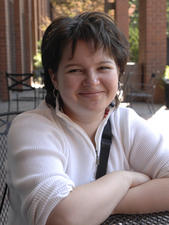 I first got acquainted with my host family when my friend from Tajikistan who was living with them. She invited me over to their house and I remember how much I didn't want to go. I did not speak much English at that time and was not willing to meet new people. Besides my friend scared me by saying that her host parents had a daughter with an intellectual disability. And indeed it was quite difficult for me in the beginning to socialize with this girl and actually the whole family. I could not understand what my friend's host parents and especially the kids were saying to me and I felt very uncomfortable. But later on when my English was improving and this family surrounded me with warmth and care, I began to feel their house as I was at home. When my friend returned to Tajikistan, I stayed with her host family for a few weeks in the summer. Also I lived with them over spring break and sometimes stay at their house on the weekends. Now I call them my host family. I attend every event they do. Initially, I was shocked when I went to their daughter's Special Olympics game where she played softball because every kid had a disability. Now one of my favorite activities I like to do with my host family is to go see Special Olympic games their daughter is in. The kids don't scare me anymore. They are really great and all try so hard and have fun together. I don't talk to my host mom every week, but I always know they are there for me and if I need anything I know who to call. — Masha, Russia