e3 Sustainable Workplace Challenge
Participating in the e3 Sustainable Workplace Challenge demonstrates your office's commitments to ecology, efficiency, and education. This is a voluntary program to help guide offices and departments in making JCCC a more sustainable institution from the ground-up. The program's intents are to help your office and JCCC lead by example, decrease waste, save money, and decrease JCCC's environmental impact though simple, everyday actions.
How the Challenge Works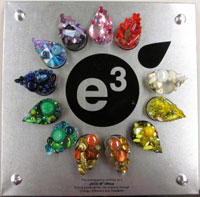 The e3 Sustainable Workplace Challenge is organized around a checklist of sustainability initiatives for your office to complete. These initiatives are separated into 6 focus areas and assigned a point value. The goal is simple: earn as many points as you can by completing additional items on the e3 checklist.
Energy Efficiency
Recycling and Waste Reduction
Purchasing
Events and Meetings
Transportation
Engagement
The Prize
Every good challenge needs a trophy, right? This is no exception. As your office accomplishes more initiatives, you earn more points. These points earn you petals to place on your office's sunflower plaque to show others your progress. The goal is to fill your plaque with petals to display in your work area.