Landscape and Biodiversity
Trees
The college has aggressively taken the opportunity to plant trees under the supervision of our Grounds department. Not just because we had to take action due to the Emerald Ash Borer, but because of the understanding that trees are our best carbon sequestration method on campus. On three separate occasions we have had the opportunity to partner up with UPS Local Grants program to plant trees.
Bees
JCCC is host to one of Jarrett Mellenbruch's Haven sculptures, which address the ongoing decimation of the global honeybee population due to a series of devastating health crises, including colony collapse disorder. Designed to be a nationwide network of 1,000 beehives, Haven provides safe homes for wild honeybees and raises public awareness of the importance of this pollinator, which makes possible 1/3 of the human food supply.
The college also offers courses in Beekeeping through our Continuing Ed Class schedule. To find the classes that fit your schedule, visit JCCC Continuing Education. 
Students from the student sustainability committee are working on certifying JCCC as Bee USA Campus.
Butterflies
Native gardens are popping up on campus because we love butterflies; that, and we like easy to maintain plants. We have been adding native and pollinator gardens every year to help bring back the dying population of bees and butterflies, and we use these gardens to discuss the importance of these plants to the biodiversity of our campus.
Plants
The following native plants were used in the southeast quadrant stormwater project.
Side Oats Grama (Bouteloua curtipendula)
Black-eyed Susan (Rudbeckia hirta)
Blue flag (Iris versicolor)
Blue Gamma (Bouteloua gracilis)
Blue Lobelia (Lobelia siphilitica)
Cardinal Flower (Lobelia cardinalis)
Common Rush (Juncus effusus)
Day Lily (Hemerocallis fulva)
Indian Seaoats (Chasmanthium latifolium)
Fox Sedge (Carex vulpinoidea)
Goldmoss Stonecrop (Sedum acre)
Lance Leaved Coreopsis (Coreopsis lanceolata)
Little Bluestem (Schizachyrium scoparium)
New England Aster (Aster novae-angliae)
Rice Cutgrass (Leersia oryzoides)
Prairie Blazing Star (Liatris pycnostachya)
Prairie Dropseed (Sporobolus heterolepis)
Purple Coneflower (Echinacea purpurea)
Showy Goldenrod (Solidago speciosa)
Sweetflag (Acorus americanus)
Wild Bergamot (Monarda fistulosa)
More information about and photos of these plants can be found via the USDA PLANTS database.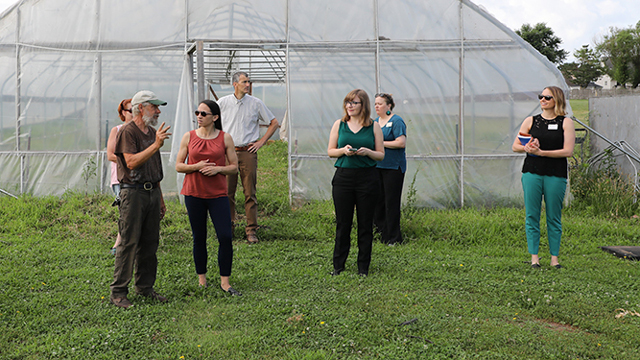 Individuals, groups or classes are welcome to see specific areas or or initiatives on campus. Our flexible hours allow us to meet when and where you want to learn more about sustainability on the JCCC campus.
Follow The Center for Sustainability
Get current news about events, opportunities and news regarding sustainability at JCCC.