See our statistics showing over 58% reduction in campus trash and increase in recycling.
Recycling Statistics
Our initiatives included the challenge to provide sustainable solutions to food and water on campus. The Open Petal Farm, the Children's Garden and Dining Services participated in the challenge.
If you're a student experiencing food or housing insecurity or other hardships, visit the JCCC Student Basic Needs Center.
Farm to Table
The Sustainable Agriculture program has been selling produce to JCCC's Dining Services since its beginnings in 2010, and we continue to increase the level of what is served at the College with the development of an internship program to harvest, clean and prepare the food for dining rooms across campus. We are also working to make this a year-round program with the introduction of food grown in our campus greenhouse via hydroponics and aquaponics, so next time you visit one of our dining areas, ask where you can get some hyperlocal foods.
Children's Garden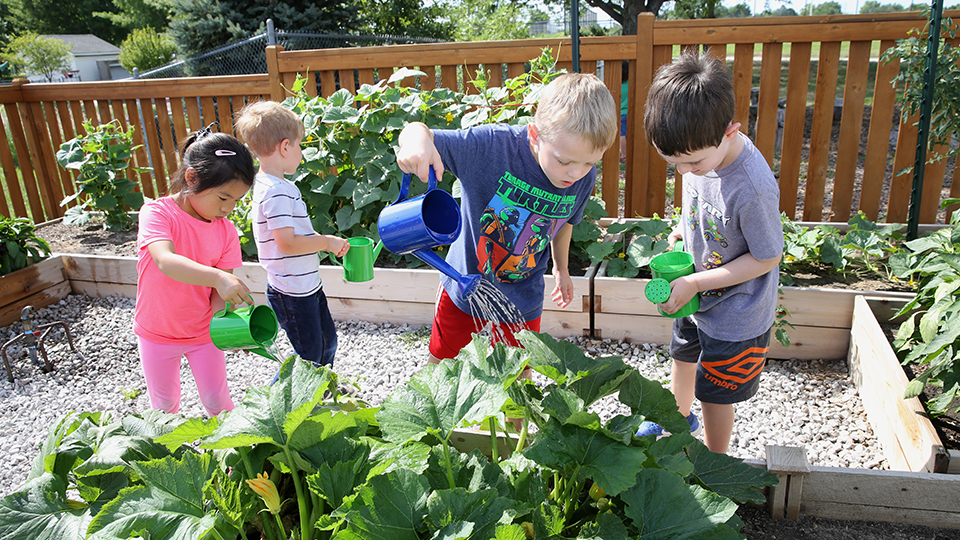 The Hiersteiner Child Development Center (HCDC) Children's Garden was established in 2007 by Associate Professor of Hospitality Management David A. Smith. "Farmer Dave," as he is known to the children ages 2 ½ to 6, oversees a farm-to-table experience for them each week. The children watch seeds being planted, produce harvested and then made into fresh, healthy foods such as minestrone soup and pizza with fresh produce toppings. The Children's Garden itself is grown in a hoophouse; the UV plastic covering keeps the temperature warm enough in the winter for a fourth growing season, or it can be rolled up for ventilation in the summer. In April 2010, 20 fruit trees from plum to gooseberry – which were funded by the Student Sustainability Committee – were added to the bounty. The benefits of the Children's Garden are many: Not only are the children learning about where food comes from, but also that vegetables are fun and tasty, hopefully enticing them to adopt healthy eating habits as they grow.