See our statistics showing over 58% reduction in campus trash and increase in recycling.
Recycling Statistics
Center for Sustainability initiatives are located throughout the JCCC Campus.
Water Hydration Stations on Campus

ATB
south end of 1st floor
CLB
1st floor restroom area and
2nd floor restroom area
COM
Java Jazz
GEB
1st floor near the president's office and
2nd floor near the circle staircase
GYM
1st floor near the open gym and
basement, near locker rooms
ITC
BNSF restroom area area and
Room 114
LIB
1st floor hallway
MTC
2nd floor classroom area
OCB
1st floor restroom area
Police Academy
1st floor restroom area
Regnier Center
1st floor restroom area
SC
near the Student Activities Welcome Desk in the 1st floor hallway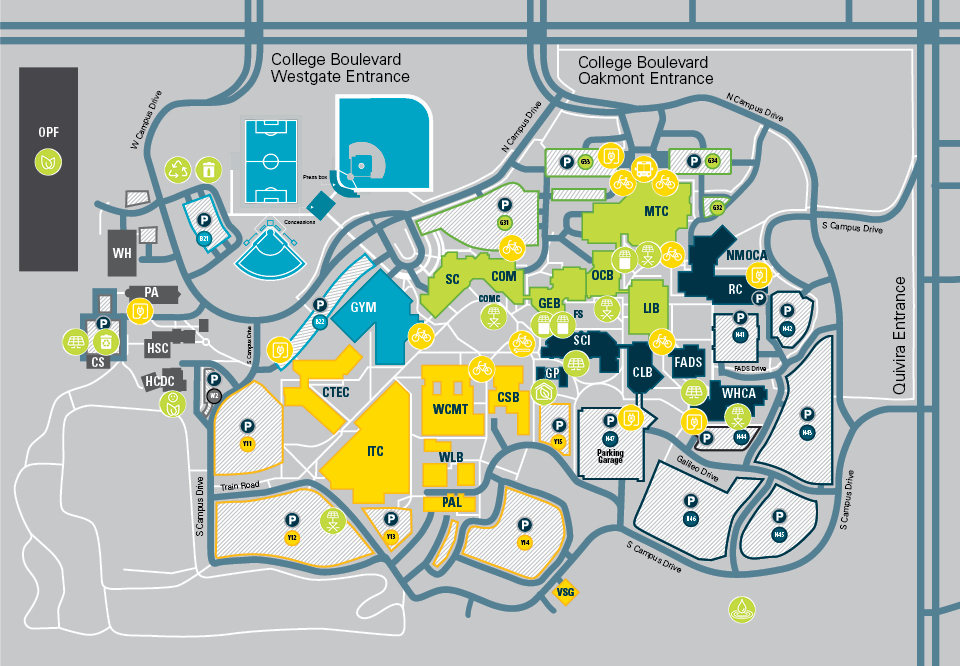 Map Icons for Sustainability Projects on the JCCC Campus

Bike Racks

Solar Powered Compactors

Bike Repair Station

Ripple Glass Recycling

Bus Stop

Recycling Center

Recharging Station

In-vessel Composter

Farm Fields

Solar Powered Recharging

Children's Garden

Solar Panels

Galileo's Pavilion

Quad Storm Water Projects
Sustainable Classrooms - JCCC partnered with Studio 804, a design/build program at the University of Kansas, to construct a LEED platinum classroom building on the JCCC campus. Tentatively named Galileo Pavilion, it will house two classrooms, a lounge, kitchen and small meeting room. Construction was completed in 2012.
Recycling - At JCCC, by recycling paper, cardboard, plastic bottles and aluminum cans, you not only help the environment – you help support students. The proceeds the college receives from all forms of recycling go to the Foundation to support scholarships. Since 1994, more than $140,000 has been raised for scholarships from all of the college's recycling efforts.
Composting - JCCC's composting program turns food waste into a valuable soil amendment, which is then used on JCCC's Campus Farm. By composting, JCCC is decreasing the amount of waste going to the landfill, eliminating the need for synthetic farm fertilizers, and negating carbon dioxide and methane emissions that otherwise would have been produced by the organic material decomposing anaerobically in a landfill.
JCCC Campus Farm - JCCC's Campus Farm is located on roughly 2.5 acres in the Northwest corner of the main campus. The purpose of the farm is two-fold: to provide a hands-on educational experience for the Sustainable Agriculture program and to provide locally grown, chemical-free produce to the specifications of JCCC's Dining Services and Culinary program.
Curriculum Development Integration - Also known as the Sunflower Project, we believe that students should be educated about the economic, ecological and social aspects of sustainability. The Sunflower Project is a grant program to facilitate the infusion of sustainability across the curriculum. Our faculty are eligible to apply for funding to support sustainability curriculum development.