Student Says Counselor Gave Him Courage
November 12, 2015
---
Thanks to counselor Bruce Harvey, Jamelle Blunt has a head start on his career path.
Student, Jamelle Blunt and counselor, Bruce Harvey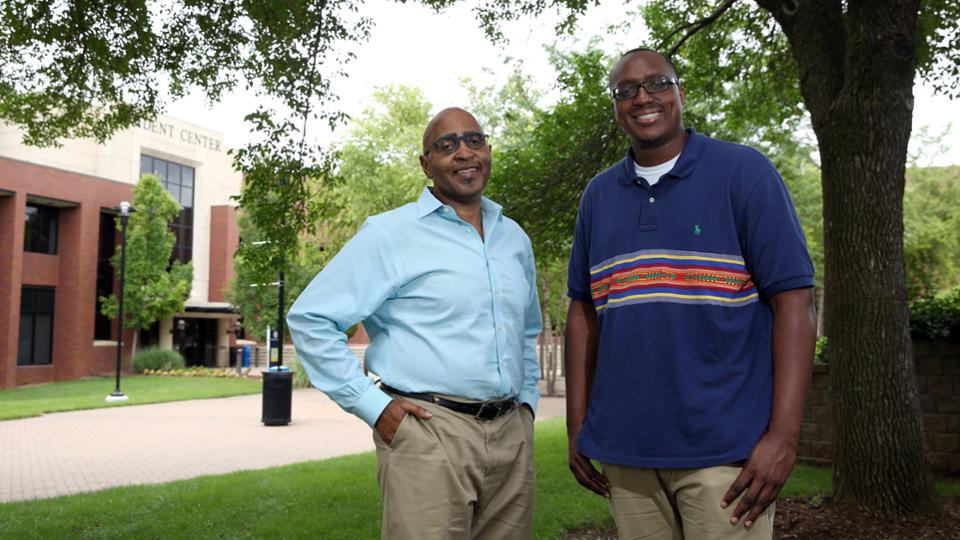 If you ask Jamelle Blunt why he wants to be a teacher, he'll provide answers that many teaching candidates provide: mentoring youth, making a difference, following in the footsteps of a family member who's also a teacher.
Yet one particular reason might stand out because its seemingly bland uniqueness. "At Johnson County (Community College), they make you see a counselor…. That was when I met Bruce Harvey…and we had a real conversation," Blunt said.
Listening and encouraging
Harvey, a JCCC counselor for 20 years, asked Blunt about himself and his aspirations. Out came the story of Jamelle, who attended Kansas State University for a few years before he knew it wasn't right for him.
Then he talked about his love of sports, his volunteer work as a coach for a youth basketball team at his church, and how he thought he'd become a physical therapist.
But the longer Harvey listened, the more questions he asked. Harvey said he heard in Blunt's voice a love of working with children. "I asked him if he'd ever considered teaching," Harvey said.
"Sure I had thought about it," Blunt said. "But I didn't want to fail again."
Something about being a teacher seemed insurmountable for a student who hadn't managed to get his bachelor's degree in four years.
If Blunt hadn't left K-State, he thought, teaching might be an option. If he hadn't spent three years stocking shelves overnight in big-box stores, perhaps he could have become a teacher. Now, at 28, Blunt thought the idea seemed far-fetched.
It was Harvey who convinced him he could try, Blunt said.
After all, why had he come back to college in the first place?
Remembering and preparing
Why, indeed? Mostly, Blunt confessed, it was because he didn't want to spend his life putting things on shelves while the rest of the world slept.
Blunt said he looked around at some of his coworkers, some of whom had been on the job for 10, 15 or even 20 years.
"You don't want to be that person 20 years from now. You want to do better with your life," he said "You don't want to wake up and realize you didn't influence people for the whole of your life."
His mother-in-law was a teacher, as was his stepmother. He knew how much work it would take. Even in his role as basketball coach, he knew that kids took every square inch of energy, but he was prepared to teach anyway.
He thought about his own history teacher back in high school, who decorated bulletin boards to create remarkable displays on whatever they were studying. Students also received extra credit for posters and visual displays, which the teacher also exhibited, he said.
"I fell in love with the scenery," Blunt said. "That's something I definitely would incorporate into my teaching."
He's learned an even deeper appreciation of history from professors Bill Stockton and Tai Edwards. "History is what I want to do," he said. "Taking (their) classes was really good for me."
Blunt currently works as the junior varsity basketball coach at Bishop Seabury Academy in Lawrence. "I'm getting good feedback from the district, and not just about basketball. They like how I work with kids."
Harvey said he thinks Blunt will make a great educator. "We opened a dialogue that showed him what was possible," Harvey said.