The Nerman Museum of Contemporary Art galleries may be opened for visitors after regular public hours during special events.
---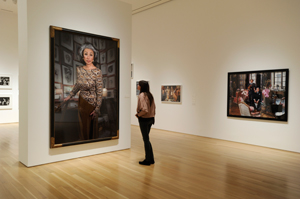 After-hours access to the museum galleries is available, pending approval, for a charge of $1,500. The approval process for access to the galleries will be facilitated by the conference services manager. The museum staff determines when access can be accommodated, and you will be notified as soon as possible. 
Requests may be made for after-hours access on Tuesday through Saturday until 10 p.m.

Public hours for the museum galleries are:
Tuesday
10 a.m.-5 p.m.
Wednesday
10 a.m.-8 p.m.
Thursday
10 a.m.-8 p.m.
Friday
10 a.m.-5 p.m.
Saturday
10 a.m.-5 p.m.
Sunday
Noon-5 p.m.
The museum is closed Mondays and on JCCC holidays.

If your after-hours access request is approved, the next step is to make reservations for a docent-guided tour in the galleries, unless you are interested in self-guided touring. 
Requests for guided tours are accommodated pending docent availability. Rental clients may schedule group tours via the online reservation form for regular public hours as well. The scheduling process for group tours during public hours is the same, but no museum gallery rental fee is charged.
For more details about tours and reservations refer to Nerman Museum Tours.