Capitol Federal Conference Center
The technology-infused Capitol Federal Conference Center at JCCC's Overland Park campus is available for conferences, multimedia presentations, exhibitions, special events and banquets.
---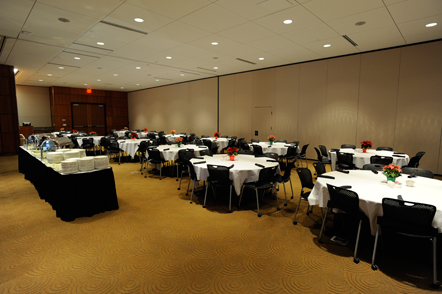 The 5,000-square-foot conference center can be used as one large room or divided into halves (lengthwise or crosswise) or quadrants. It can accommodate up to 330 people.
The center is surrounded by breakout rooms and space for exhibits in surrounding hallways, as well as in the Richard G. and Barbara J. Shull Foyer.
Each quadrant of the center is designed with multiple floor outlets for exhibits and computers as well as podiums engineered with a user-friendly touch screen to control a computer, LCD projection screen, DVD/VCR/CD player, digital visual presenter and microphone.
Tables may be configured to create a conference room, classroom, lecture hall or banquet space. A full-service kitchen can provide food for coffee breaks, sit-down dinners, informal buffets and hors d'oeuvre receptions.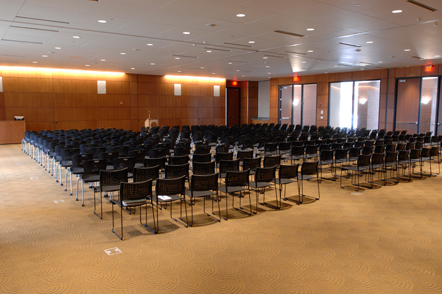 The conference center is located on the first floor of the Regnier Center on JCCC's campus, adjacent to the Nerman Museum of Contemporary Art. The two-story glass Atrium that connects the Regnier Center with the museum can be used as a meet-and-greet lobby or an exceptional backdrop for evening receptions. The 190-seat M.R. and Evelyn Hudson Auditorium in the Nerman Museum is available for additional presentations.
Rental charge per day: $1,000 for entire space; $750 for half, and $500 for one quadrant.