The two-story glass atrium that connects the Regnier Center and the Nerman Museum of Contemporary Art at JCCC may be reserved for events.
---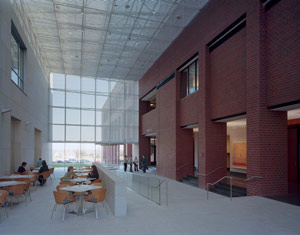 The space opens to the Capitol Federal Conference Center on one side and the museum on the other.
The soaring glass walls act as a counterpoint to the limestone facade of the museum and the red oak of the conference center – a perfect site for receptions or meet-and-greet events.
A seating area for Café Tempo is at a vantage point overlooking the atrium.
Capacity: 200
Rental charge: $150 with the rental of any other space
Atrium-only rental fee: $500