AO-K Railroad Conductor Pathway
Earn a GED® while you complete a short-term program in the railroad field, leading to industry-recognized credentials and improved job prospects. Become an AO-K student today!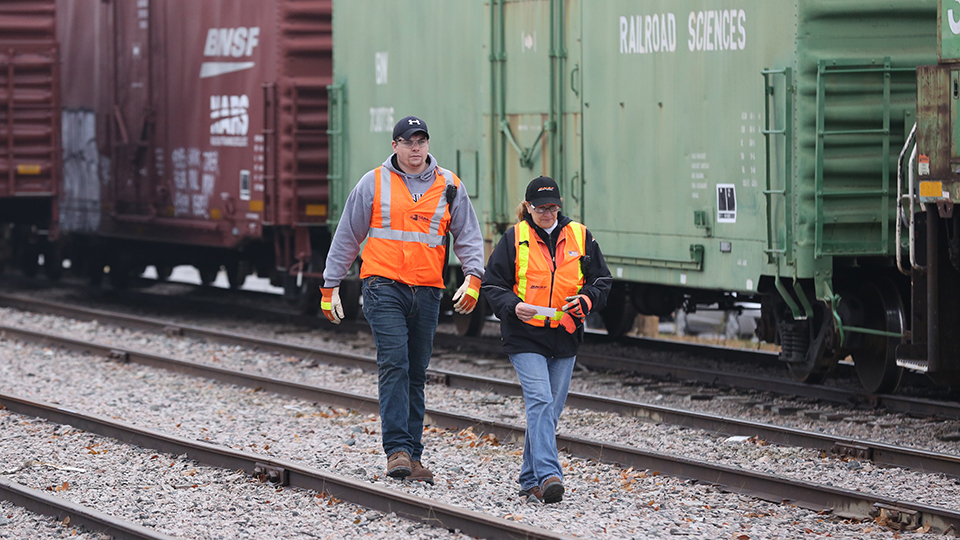 AO-K at JCCC = double time toward a high school diploma and a career
Launch a successful career while simultaneously receiving academic instruction and in-demand technical certificates. You may even qualify for free tuition for pathway courses. 
As a railroad conductor, you will:
Distribute cargo and weight evenly along the train
Ensure rail cars are in proper working order
Maintain communication with the train's engineer, traffic control and other crew members
Adhere to strict safety regulations and guidelines
AO-K teaching approach
This pathway can offer you:
Maximized individual attention
Specialized teaching team to help improve basic reading, writing and math skills related to your technical career
Technical and professional skills
You'll study at the National Academy of Railroad Sciences (NARS), a partnership between Johnson County Community College and BNSF Railway.
NARS instructors, who are former railroad conductors, will use outdoor labs and simulators to teach you:
rules and signals
safety policies and procedures
train mechanics
on-the-job requirements
Courses in the Railroad Conductor Pathway include:
Introduction to Conductor Service
General Code of Operating Rules
Conductor Mechanical Operation
Conductor Field Application
Conductor Service
Workplace Skills
Labor Department outlook for railroad conductors
The Kansas Department of Commerce reports competitive wages for railroad conductors. In the state of Kansas, the median wage for railroad conductors is $57,480 a year. 
To learn more, email Kayla Harrity, AO-K coordinator/instructor, or call her at 913-469-3003.