Budget Planning
Overview of the 2016-2017 budget outlining the plan to be presented to the JCCC board of trustees for its April 21, 2016 budget workshop.
---
Revenues
General fund revenues are expected to increase next year by just 2.8%. The largest revenue growth is in ad valorem taxes (local property tax), which is expected to increase by 6.5%. No change in the college's current mill levy of 9.469 is proposed.
The board of trustees approved modest tuition increases for 2016-17 in October 2015, but overall tuition revenue is expected to drop slightly next year primarily due to projected enrollment declines. While we hope to exceed expectations, the budget plans for a 3% enrollment decline. In addition, the board approved a new Metro Rate of $135 per credit hour for residents within neighboring Missouri zip codes (zip codes starting with 640 and 641). This will allow those students to pay $135 per credit hour, versus the $220 out-of-state rate. State aid, the third largest revenue source, continues to be uncertain. We budget conservatively, anticipating a 5% decline in State funding, but may not know the final figure until June.
The proposed General Fund/Postsecondary Technical Education Fund revenue budget for FY 2016-17 is represented in the chart below. Ad valorem taxes now make up more than 60% of revenue, with state aid dropping to 15% of total revenue, compared to 18% four years ago.
Expenditures
With a 2.8% increase in revenues, it was important that we look carefully at requests for new funding or new staffing positions. More than ever, new initiatives and program expansion must come from reallocations of existing resources, not from increased revenues.
Salaries and benefits. We established guidelines early in the budget process that there would be no increase in full-time positions. However, we wish to move certain strategic initiatives forward. Vacant, funded positions allow for reallocation to high priority areas. The following new full-time positions are proposed in the FY 2016-17 budget:
A police sergeant
A police officer (funded from general fund following end of grant-funded officer position)
Director of the new Collaboration Center
Six Student Success Advocates (decreasing the number of part-time positions and creating new full-time positions)
These positions are recommended to meet critical and strategic needs at the college. They are possible only because of the reallocation of vacant administrative and staff positions in other areas. While these decisions can be challenging, the Cabinet carefully considered what was best for the college to prepare for the future.
In terms of full-time faculty positions, there were requests for 28 positions. The administration carefully considered requests based on factors including enrollment trends, community and workforce needs, and other data from program reviews. The budget includes recommendations to fill 16 positions in FY 2017. In some cases, positions are being reallocated to a different department than where a vacancy has or will occur, based on college-wide needs. In addition, we chose not to make further long-term faculty commitments until we evaluate the recommendations from our facility master plan.
Salary and benefit costs are affected by budgeted increases for salaries and wages, as well as increased benefit costs. The budget includes funding for negotiated increases for faculty, per the faculty 2015-2018 master agreement. In addition, the college needed to address salary adjustments identified in compensation studies conducted in 2013 and 2014 for hourly and salaried staff. Due to funding restrictions at the time, these salary adjustments were not made. Therefore, the proposed FY 2016-17 budget includes funding for salary adjustments for eligible, non-probationary, full-time non-bargaining unit employees identified in these compensation studies. Additionally, a 2% across-the-board salary increase for all non-probationary, non-bargaining unit salaried employees and full-time and part-time hourly employees is recommended.
Finally, the salary and benefit budget is projected to increase due to rising healthcare premium costs. At its March 2016 meeting, the board of trustees approved a recommendation to finalize an agreement with Blue Cross & Blue Shield, Kansas City to provide employee group health insurance. The anticipated increase in plan costs represents approximately a 10% increase, or roughly $1.1 million, with the college paying 75% of the increase, and employees paying the remaining 25%.
Extension of Retirement Incentive Program. The salary and benefit budget also includes a one-time use of operating reserves of $1.8 million for the second and final year of a Retirement Incentive Program. This program was offered in the current year, with 22 eligible individuals opting to retire with additional benefits accruing to a health savings account.
Other key initiatives funded
The proposed budget for next year includes other one-time expenditures to come from reserves. After the college spent down its reserves for the five years from fiscal year 2010 through fiscal year 2014, the last two years have seen a positive contribution to reserves. The graph below presents actual and projected general fund/postsecondary technical education (PTE) reserves at December 31 of each year. Due to the timing of property tax and tuition revenue, December 31 represents the low point for financial reserves each year.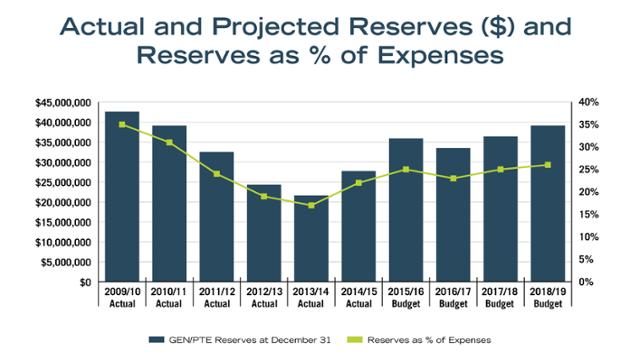 Rebuilding our reserves gives us some flexibility for one-time commitments, such as a second year of the Retirement Incentive Program. There are also three projects related to capital improvements that are proposed for funding from reserves. These are an upgrade and expansion of security cameras, improvements to classroom spaces, and planning for results of our facilities master plan.
Security cameras. Most of the college's approximately 350 closed circuit security cameras are analog, not digital. With the expansion of the college's fiber plant project, we are positioning ourselves to move to digital cameras, allowing for greater functionality and clarity. A recent consultant review recommends expanding the number of cameras to roughly 480, and adding needed cameras to portions of the campus that have lacked cameras to this point. Budgeted cost for camera expansion is $500,000.
Classrooms of the future. A team of faculty and staff has been exploring how to best design classroom spaces for changing pedagogies. They have researched and visited other institutions, met with faculty, and dialogued with faculty about their experiences teaching in the college's learning studios. While their work is ongoing, we wish to provide resources for initial implementation of recommendations anticipated in the coming months. The proposed budget includes $1,000,000 from reserves to begin to address recommendations, whether they include new furniture, technology or other design elements for converting some of the college's more than 250 classroom and laboratory spaces.
Facilities master plan implementation.
Finally, the college is engaged in facilities master planning. Various campus teams are working with consultants from SmithGroupJJR in preparing the facilities master plan. The plan will help us identify how space may be repurposed to best meet future workforce and community needs, how existing space may be used more effectively, and how campus design and service locations contribute to student success. The plan is to be completed by this summer, and will likely contain recommendations for renovations to new space for some programs or services. In anticipation of these recommendations, we're proposing $2,000,000 be set aside for architectural and engineering services to begin more specific planning. Again, this is a non-recurring expenditure so could come from the college's financial reserves.
A representation of the General Fund/Postsecondary Technical Education Fund expenditures for FY 2016-17 is below.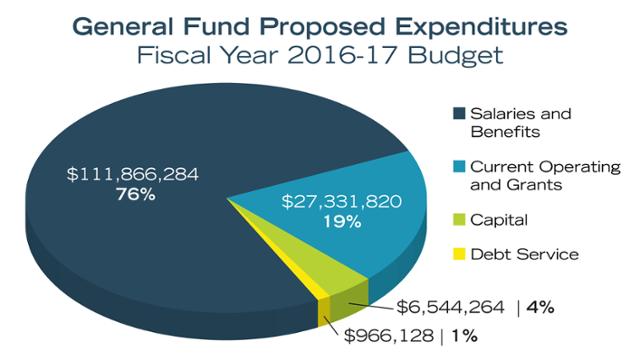 The budget contains much more detailed planning, but we wanted to provide you information at a summary level. More specific information will be available in the budget workshop book to be presented on Thursday, April 21 at the board of trustee budget workshop. Following the workshop, the book will be published on the college's website. Thank you again to all for your contributions to preparing the FY 2016-17 proposed budget.